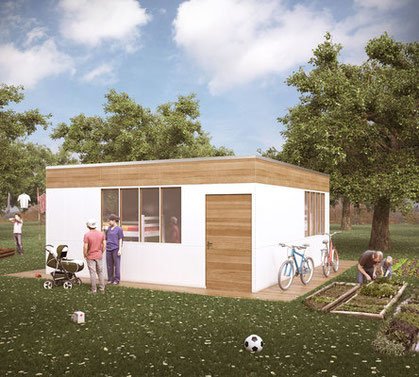 www.tubewaysolar.at
Structural engineering suggestion for
VAKUUM wall modules  
Because of the insoluble environmental problems in cement production and the mining of building sand, completely new approaches must be taken in the construction sector
In the operating principle of a thermos flask*, coffee, for example, remains hot until the next day - thanks to two wafer-thin, silvery glasses and a rough vacuum. The different wavelengths created here find a thermophysical barrier that is much slower.
The thin "MLI films" used in space travel under vacuum also replace the storage mass and all insulating materials commonly used in our buildings. In space, these films actually protect against much higher temperature differences than those found on earth.
Here on earth, a vacuum enclosed in modules and reflective foils enable optimal building insulation. 
Before the building description follows, I would like to mention the advantages of this construction method: 
# This type of building module is suitable anywhere and for any climatic condition; and they can be prepared quickly.
# The completely wooden, cost- and resource-saving modules allow rational construction planning.
# The transportable and lightweight construction elements (with only ~ 17 to 28 kg / m²) each ensure a stable building statics.
# They can be delivered in space-saving stacking. They are handled by only two people for elastomeric grouting without a construction crane or scaffolding (e.g. in OSB format 1.25 x 2.5 m).
# Object designs that can be selected in advance offer any architectural freedom.
# Considerable energy cost savings for winter heating and summer room cooling.
# Expensive subsequent renovations, plaster renewal using scaffolding and the use of styrofoam are no longer necessary with this construction method.
# The walls do not result in any heating up storage masses; this also reduces urban heat build-up.
# The walls are flame retardant and protect against termite infestation if necessary. This load-bearing capacity also applies to multi-storey buildings. The walls also offer perfect noise protection and hardly transmit solid-borne noise to the residents. Furthermore, there are never damp walls.
# With light wooden stringer stairs instead of massive concrete stairs, as well as wooden rib false ceilings (e.g. EcoCell elements by the Swiss architect Fredy Iseli). Here, too, 'renewable' is the better building material.
# With the ~ three centimeter wide elastomer joints, the 100% wooden modules are permanently connected and guarantee a very high level of earthquake resistance.
# For the construction of new residential buildings, after war damage or disasters and for migrant housing needs, this approach enables inexpensive and quick reconstruction.
# By cutting open the elastomeric joints, such a building is quickly restructured. It can then be rebuilt in another location with the same type of grouting. The natural building fabric offers a high long-term benefit.
# Slim partition walls as well as walls supporting several floors can be equipped with this vacuum technology. In the case of multi-storey buildings, standing beams with correspondingly larger dimensions are installed in the lower storey sandwiches. In general, there are also far lower wall loads than in today's conventional solid construction.
# Most of the production steps in larger series can also be carried out by robot arms - and the subsequent erection without a construction crane and without scaffolding!
# The long-term vacuum reduction caused by diffusion can be readjusted again using the rotary vane pump via the modular valve accessible from the room.
# The greatest advantage, however, comes with the global reduction in CO², which can and will take place as a result of the paradigm shift that is taking place in the construction industry - because building sand will simply be too expensive in the future! 
To the state of the art: 
Similarly conceived products are already on the market. 
These "VIP Panels" cost, through the complex processes of their Production, per m² up to 100.- €! 
They are not leak-proof in the long term or their vacuum cannot be readjusted - and above all - they do not provide a static function. 
Statically stable vacuum modules are not yet evident on the market, but "VIG windows" are already available in vacuum design.
This licence-free approach published here is therefore "state of the art".
 How are these components manufactured?
The module frames support tempered glass, sheet or OSB panels on both sides. 
On the outside of the OSB's are 20 my thick aluminium foils glued on with Zapon lacquer. 
Between the panels are squared timber uprights, arranged in rows, with maximum dryness. The uprights are glued together along two blunt edges. Their two sharp edges, on the other hand, lie against the two OSBs. This minimal contact between the longitudinal edges means that no significant thermal transfer occurs.  
The module frame is made of 16 mm thick plywood with interlocking at its four corners. The OSB's are each framed by the frame rebate running all the way round and elastomerically bonded to it. The result is permanently gas-tight sandwich elements.
Only the module joints have insulating strips that are visible on the outside.  
Suspended ceiling
Wall lateral
Squared timber uprights
Spacer bars
Silicone
Frame
They are delivered from the factory with half negative pressure.
Cables and other installations must be laid in separate shafts. 
After construction, a rotary vane pump is used to create an atmospheric height-dependent vacuum of about 95 % in each module field. The suction valves are located on the living space side and allow for readjustment of the air diffusion that will occur over the years.
If the facade surfaces are covered with PV-foil, this results in a completely energy self-sufficient building, whose excess electricity can also serve the charging station for e-mobility! 
A corresponding number of transparent acrylic spacers are inserted between window panes or full-surface glass elements, distributed over their surface. These surfaces can also be readjusted via valves. An excess of UV radiation could be reflected by UV/IR foils; or sun blinds placed outside regulate the desired temperature by auto-sensors. 
With a solar-thermally supported heat pump heating system and fresh air via heat exchanger, an economical indoor climate is ensured all year round. 
>> All in all, sustainable building and living is possible! << 
What does one m² of vacuum wall cost approximately? 
2 m² Kronoply-OSB, 12 mm                                             46,- €
2 m² aluminium foil                                                             2,- €
17 lm squared timber + 2 lm plywood + elastomer        ~ 30,- €
Working time of prefabrication per m²                           ~ 22,- €
            - " - at the building site in about                               20.- €   
= in total about                                                                      120,- € *  
* This estimate is based on series production, excluding pricing at the expected profit.
The decision of the building owners is therefore likely to be made more and more often in favour of this type of construction; solid construction costs about twice to several times as much per m² (not counting the product life cycle with demolition costs)!
Market surveillance for construction products is the responsibility of the respective authorities; building physics institutes are responsible for the corresponding certification in the areas of insulation, fire protection, sound insulation and structural integrity. 
Source: IPCC / Cement production emits more CO² than air traffic and shipping together.
With the costs for building sand, which will certainly continue to rise, a change in our construction engineering practice is inevitable. A change from cement, sand, polystyrene and reinforcing steel - to wood and 
Vacuum-integrated glass as well as on applied PV-foils is sustainable, future-proof and desirable. 
Vacuum wall modules are foreseeable energy and resource savers in the construction phase as well as in the utilisation phase! Their recycling also requires only little effort.  
Furthermore, there is an urgent need to reduce the CO²-polluting cement production and the ecological consequences of over-exploitation of building sand. The food chain of maritime life begins with micro-diversity, which is mainly based on sandy seabeds!
* The vacuum vessel was used by the chemist James Dewar in calorimetric experiments as early as 1874. [2] These vessels, now known as Dewar vessels, were made of metal. [3] Only later were they made from glass flasks placed inside one another. To reduce heat radiation, Dewar mirrored the inner surfaces of the glass vessels (Wikipedia).
In admiration of his inventive achievement, it fell to me to design their extension towards thermal construction elements. 
  = = = = =
 With a technically similar approach, sunlit, solid exterior walls are able to heat the rooms behind them with stored thermal radiation from free solar energy.
These walls are clad on the outside with glass and on the inside with sheet metal, plywood or OSB's on vertical, spacing rear-ventilation laths. They form the basis for vacuum-controlled heat storage and can be retrofitted to almost any building.
During the day - at normal pressure - the wall mass behind the glass heats up. In the evening, the outer façade is heated by means of automatic 
Control to the vacuum insulation which was upright to the inside of the room during the day.
Now a continuous heat radiation, distributed over the night, is emitted into the rooms behind. 
On hot days, an externally placed, sensor-regulated sun blind prevents the storage wall from overheating or undesired heating.
# Both constructional approaches could be implemented by medium-sized craft businesses. 
I cannot give any values for scalability, R+D, R+D etc., because I am not familiar with business administration, for example. 
       > In the sense of fulfilling our SDGs !  <
 Copyright 2008, Graz, Austria - updated, Vienna, October 2019 - Michael Thalhammer 
 ~~~~~~~~