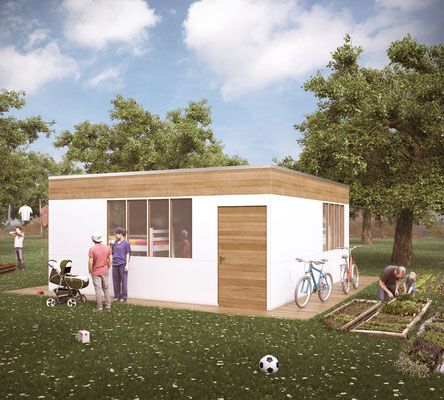 Wall element concept with 95% wood use 
Due to the unsolvable environmental problems in cement production and in the mining of 
sand, completely new paths would have to be taken in the  
new paths would have to be taken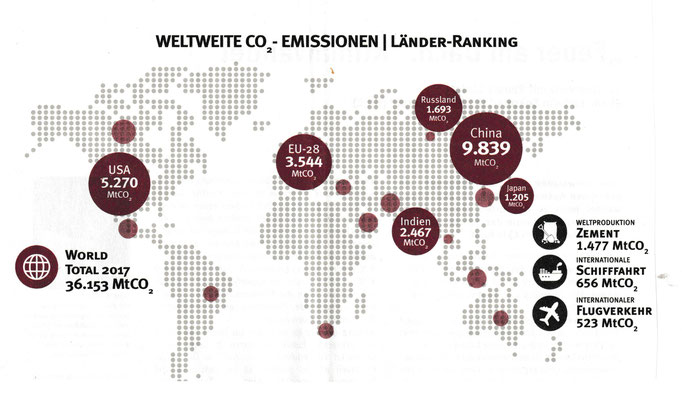 Source IPCC / Cement production emits more CO² than air traffic and shipping combined. 
The costs of building sand will certainly continue to rise, and this will inevitably lead to a change in our building practices. A switch from cement, sand, polystyrene and reinforcing steel - to wood and e.g. rock wool insulation as well as applied PV films is sustainable, future-proof and desirable.  
Furthermore, it is urgent to reduce the CO²-polluting cement production and the ecological consequences of the overexploitation of building sand. The food chain of marine life begins with micro-diversity, which is mainly based on sandy seabeds! 
 My approach would be sustainable building elements as a climate-friendly standard
In this approach, stackable wall modules form a mobile and often usable variant. They comply with the Viennese building regulations for allotment garden dwellings, with max. 50 m² overbuilding area and under 5 m construction height.
They are made of OSB wooden frames, OSB boards and e.g. clamping felt sheets or polystyrene insulation and can be delivered prefabricated and stacked anywhere. 
With silicone grouting, these modules can be handled by 3 - 4 people without the use of a construction crane. Whether as a school, shop, warehouse, ambulance, workshop or flat - the construction method can also be used for space-saving, multi-storey applications. 
How are these modules constructed? 
The 20 cm deep and 2.5 cm thick OSB module frames are covered on both sides with 12 mm thick OSB boards. The boards can usually simply be left in their standard size of 250 x 125 cm and fixed to the correspondingly large module frame with glue and nails. 
Beforehand, the OSB panels were covered on both sides with 20 my thick aluminium foil. The gluing is done on the still wet water glass coating, which results in a high fire resistance of the building elements. The sum of the 4/ heat reflecting foils maintains the room heat in winter and prevents the penetration of summer heat into the interior of the house.
The aluminium foils are painted over in the desired colour after the building is completed. On the room side, applied wallpaper could also make painting unnecessary.  
Before closing, the space in the module frame is filled with 20 cm thick ESB insulation. But glass wool or natural fibre clamping felt as well as cellulose flakes also sufficiently counteract thermal convection, which has a negative effect. 
The result is 23 cm thick sandwich elements capable of bearing loads. Each of them weighs approx. 65 kg. They are sufficiently soundproof, earthquake- and termite-proof, and never get damp. 
In the course of the silicone-grouted building construction, the 4-fold radiation-reflecting aluminium foils and the 20 cm insulation result in an astonishingly good building insulation value. The use of silicone joint on both sides and an   glued-in   intermediate layer of stiff cardboard, makes it relatively easy to reconstruct individual modules and erect them again on a different building site.
When using a hipped roof construction, the southern, steeper part of the roof can be used for vacuum tube collectors to optimally cover the winter heating period (with 1200 l storage tank). PV modules can be installed on the flatter, southern part of the roof.
Cables and other installations are mainly laid in separate shafts, embedded between module joints. 
The windows consist of two panes of glass, 1 mm apart from the wall plane, in the style of the tried-and-tested box-type windows. The panes can be positioned and fixed from the inside - as well as the insulating EPS insulation panels* covering the windows - in rebate strips mounted horizontally on the outside and inside, to the left or right. Both window panes are made of burglar-resistant wired glass. 
*These insulation panels are also dual laminated with painted aluminium foil.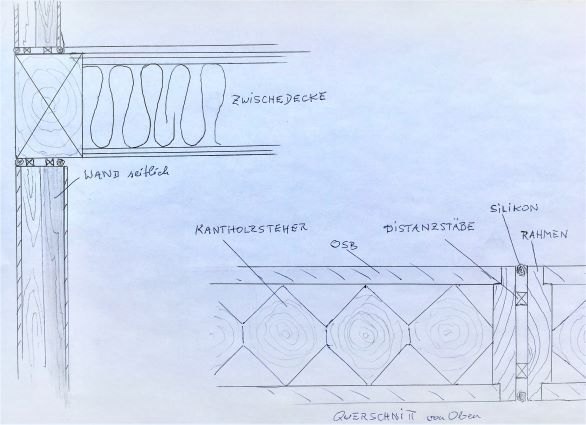 Sketch of a storey-bearing wall construction
Solar thermal energy, for example, is a very important component here, along with other points. According to the conviction of solar house pioneer Josef Jenni, "solar thermal energy is the gentlest, most environmentally friendly and most efficient technology. Heat is generated as heat, stored as heat and consumed as heat. Solar thermal energy must be used close to where the heat is needed, for example on the roof of buildings. It is relatively easy to store the heat locally. The use of solar thermal energy can indirectly save a great deal of electricity. The energy transition is therefore above all also a "heat transition" (see www.sonnenhaus-institut.de).
Land-use planning must counteract further urban sprawl - in order to meet the 1.5° climate target! Therefore, according to my proposal, it should not be allowed to build below 150 m² and not below three storeys. For this purpose, the ground floor of this type of construction would of course have a correspondingly stronger wall design.
Sustainable, self-sufficient energy supply must also become the mandatory building standard. Here, vertical wind power units (BladelessVortex) installed on the roof are an additional option. 
+ + +
This construction method is also well suited for migration need and for reconstruction after war damage. 
The consequences of war, flight and displacement are increasing worldwide. Many cities are uninhabitable and legions of people have no or only poor living space. 
The common containers and tents are not suitable - for human - habitation, neither in the heat nor in the cold. 
They are also bulky and difficult to transport. 
The approach is written for a potentially emerging support community that aims to > help people in crisis from different walks of life. people in crisis, from different walks of life, refuge and encounter <.  
Whether as a school, hospital, office, shop or flat - the construction method described above can also be used as a space-saving solution when stacked up 1 time. With silicone grouting, these modules can be erected by 3 - 4 people for any use of space (see building instructions as above). 
Especially for this purpose, stackable wall modules are a mobile and often usable variant. 
The drawing shows only one of many possible examples. Here as a multi-purpose building with variable room division. This approach requires only simple hand tools for its construction - as well as for its dismantling for new use.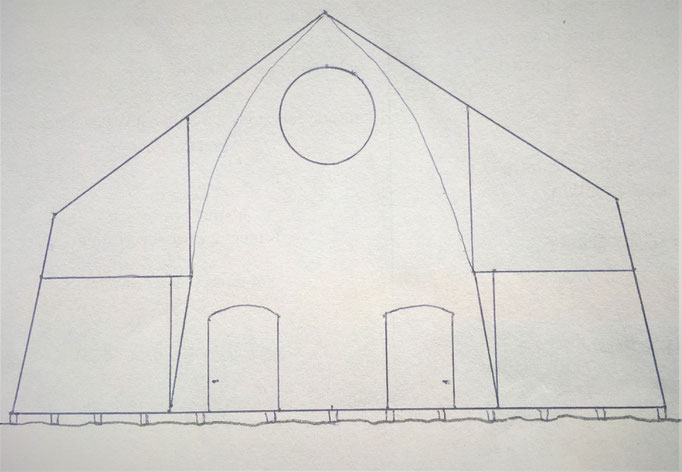 The accommodation is a foundation-free 120 m² mansard roof, with a central common room. The private living rooms are arranged on both sides.
The total interior space in this example covers ~120 m². 63 m² are added as floor areas - divided among the 18 units. The central day room measures 60 m². 
Two of the rooms are reserved as office (or nightly on-call room) and vis-à-vis as storage - this would result in 18 equally sized units. 
Each of these 17 private rooms has 4 m² of living space measuring 3 m x 1.23 m and 2.5 m room height and a small window to the day room. Above this there is another attic room of 3.5 m², which is accessible via a folding and closing attic staircase (= total 7.5 m²). 
Each of the sliding doors to the living area can be locked by its occupant. Apart from the bed equipment, it also has a wardrobe, table, folding chair, 1 mini-eco-heater, 4 LED lamps and a digital radio with headphones - as well as a hook-in side bed for children who may have moved in, and adjustable ventilation.
Residents can keep their sleeping hours around the clock; however, there is a general nighttime rest from 11 pm to 7 am. The property is then secured with, among other things, an all-round night vision recording system. The two WCs located in the canopy, the washbasin and the shower, have their 12V LED lighting switched by motion sensor. 
The shower water is regulated to be drawn off every three minutes, so that there is enough hot water for everyone. There is also a washing machine and fridges for residents to use.
In cold weather, the 10 by 6 metre middle room of the NurDach also provides a place for parents and their children to play and cuddle. Screens form a partition to the rest of the space, which all residents can use for their various activities. 
The kitchen, the dining area and the sanitary facilities would be located outside, under a 120 m² large flying roof built in front.  
The wooden support frame of the canopy in front to the south is covered with silvery vapourised greenhouse foils and reed mats underneath.  
The reed mats hanging down from the edge are rolled up in strong winds. These mats are protected against fire and weathering with Everwood-water-glass coating. This privacy screen is given a pleasing décor by means of emulsion paints. 
Under this flying roof is also a children's play tower enclosed by evergreens with 2 swings, sandpit and slide. 
The house and the food tent would also be surrounded by such a construction fence, raised beds and berry bushes. The entrance would have an acoustically-messaging access to the passages. 
Centrally located in the vestibule are two 1000 litre hot water tanks - they connect to the two solar thermal collectors on the south roof. This space is also used by a PV module to supply the 12V consumers with electricity.
The company Flisom.ch offers these lightweight, rollable films. 
The most essential, applicable house rules would be:  # ... to respect each other.  # ... as a small family
to be there for each other and stick together.  # ... to help shape the daily structure and
group activities as much as possible.   
Smoking and drinking in the house are not permitted! The deliberately somewhat streamlined support programme does not include inappropriate casual contact with the clients, nor does it include imparting personal views! However, a human togetherness and cooperation at eye level should promote the good and wholesome in a non-denominational way. 
In this example, the central 60 m² of the NurDach serve, for example, as a work and recreation room. Small products can be made there in cooperation or various services can be offered. 
For "leisure time", badminton, table tennis and a bookshelf as well as sewing, pottery, language courses, making music, painting, dance, gymnastics, etc. are planned. The carers offer - according to their talents with their own focus - a colourful daily structure in an ever-changing schedule. Whether it is an excursion, singing, meditation or a basic PC course - there are always encounters and also useful things in the programme. In a playful way, all the fears and constraints are gradually transformed into the healing creative power of hidden talents. 
Through the daily coming together in common work and free time, there would also be 
healing, interdenominational and non-political human conversations. 
non-political-human conversations.  May tens of millions of these buildings
- made from sustainable trees - grows worldwide.
 + + +
If your company finds the concept worthy of support 
and you would like to support it with donations in kind or money 
  = The UNHCR, for example, would certainly be pleased =
your company logo, with other sponsors, 
in our future web presence. 
Preliminary MATERIAL- and COSTS 
     425m² 18mm OSB SF-B f.floor/walls + foil black                                            4.000.- €
     200lm floor sub-stack, rough sawn, 5x20cm                                                 800.-   
     800m² 12mm Kronoply SF-B f. modules                                                 11.000.- 
  380 lm 5x5cm + 4mm plywood panel f. sandwich panel construction   560.-
     400 lm roof battens + 100lm 2x2cm battens                                                500.- 
     500m² aluminium foil, 3m² 3 glass panes, glass paints                              680.- 
     16/attic stairs                                                                                                    1.400.-  
     Projector, LEDs, DAB+ and other electronics                                               1.800.- 
     16 pcs. Door locks                                                                                                220.-  
     4/beer tent sets (tables 70cm wide)                                                               380.-
     15 stacking chairs + cushions                                                                           130.- 
     25/ Air guest beds w. 2fold bedding                                                              1.500.- 
     Office - labtop, copier + mobile phone                                                              600.- 
     1/washing machine + 3/refrigerators, sewing machine                              2.300.- 
     2 WC + shower, sewage access, lightning and fire protection                    3.550.- 
     Kitchen equipment + crockery + cooker                                                          2.200.- 
     PV-system f. 12V consumers like Led lighting                                               1.100.- 
     Tube collector + 2/solar tank compl.                                                                2.600.- 
     4/Headscreen infrared panel, 8/mini-ecotherm heaters                                   600.- 
     Children's play tower with 2 swings and slide, sand + bark mulch                  720.- 
     Bicycles, trolley, first aid kit, ironing station                                                      1.200.- 
     Evergreen hedge                                                                                                        800.-  
     100 pcs.berry bushes                                                                                           1.100.- 
     4 pcs. Raised bed a' 57.-                                                                                         230.-
                                                                                                                          ____________________  
                                                                                                     The project would cost a total nearly of  39.140.- 
Euros per unit. 
Most of the goods would come from DIY stores, for example, which would then also be listed as the main donors. 
Together with the fence and hedge, about 350 m² of ground is required
 More about the -OnlyRoof- can be seen in the original video at www.vimeo.com/293395008. 
  ~ ~ ~ ~ ~ ~ ~
If this has piqued your interest - please - contact me at the  
e-mail michael@earthsolar.at or by phone +4319195724. 
These approaches could probably also be adopted by UNHCR, FAO and
UNIDO for further implementation 
    On the way to the light leave no one behind!    (Peter Rosegger) 
+ + +  
Copyright 2020: thalhammer michael -Vienna  on 21.07.2020 - www.earthsolar.at 
+ + +
.