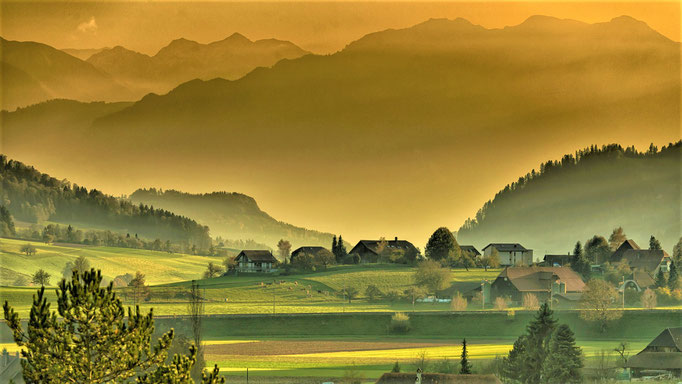 Visions of an expanded future
First, I must talk about the old prejudice that the age of "enlightenment" and earlier religious values are incompatible. After all, we humans rightly seek the largest possible frame of reference.
Knowledge and reason alone, however, cannot provide us with the care and security that God wants to give us.
Genesis, for example, offers quite conclusive explanations about the beginnings of our existence. Admittedly, the Bible illustrates the period of creation (7 days) in pictures to aid understanding – nevertheless, it offers us astonishing and altogether correctly presented answers.
What caused the big bang, created space and time and the elements? The cleverness and precision of science can hardly offer us any meaningful and reassuring answers regarding our mortality and our origin.
Without will, information, perfect wisdom and highest love of divine omnipotence or absolute truth, this planful unfolding of life can never have started the long way into full-magnificent appearance in all its glory! 
Nothing comes from nothing – life comes from that which is alive. We should not want to detach ourselves from this! Time separates human and heaven – but they unite in times of prayer.
From my own experience, hardship teaches us to pray – and even a bad conscience can get us to improve and turn old behaviours into good deeds.
Then ONE man came! His name is Jesus – which means Saviour. He taught us and teaches us today: we need each other, and we need to detach ourselves from the collective accumulation of debt – through Christ. His knowledge, his promise that God will prepare for us "a new heaven and a new earth" is crucial!
Let us get ready for God's loving provision, and let us look for His presence. Jesus told us once: "He who is without sin among you, let him be the first to cast a stone." 
Without blame and with full respect for other cultures and religions – we rely on each other, on togetherness, indeed we depend on it! We can only get through this together and must also pray together for the unifying light at the end of the tunnel – but this time as a "point of origin", instead of the "big bang" 13.81 billion years ago. And only those who had faith in God's never-ending love will find their easy death and their way home. For Christians through the Reconciler, God's Son. Regarding the many Christian denominations, I agree with Jesus' word in Mark 9:40, "He who is not against us is for us."  don't all large structures have their power problems? 
Are not the UN, EU, NATO and states per se - all are affected by the possibly dangerous use of power? 
Many – including me – feel very well that the time of the apocalypse, so mystically described in the Bible, has dawned. God tells us: "I make all things new".
Therefore, we should and are allowed to be patient with all the world, and before that also with ourselves. Many only strive for materialism and consumerism. Those who are of good will and have faith can joyfully anticipate that which carries them beyond the mortal world.
Vienna, 31.05.2021 
Here follow personal prayers:
 WHAT IT NEEDS 
It needs love the lovers
and the threatened family needs its chain mail.
The poor need bread and butter,
and the long-term unemployed need coffee.
It has no profit that grows richer every day,
and has no power that commands all.
It needs recreation the exhausted topsoil,
Instead of all the tools of war, it needs hand sickles.
It needs valerian against its hatred of the radicals,
for the esoterically confused it probably needs honey.
It needs mothers and babies milk against fear,
the occasional fasting is needed for the eversatiated.
It needs the good deeds of the rich man in order to still a slender camel through the eye of a needle.
 The well-heeled stockbroker also has his failures,
but the freezing migrant needs a protective coat.
It needs the living one who dies there,
and all mankind has His all-embracing grace.
I man, am smoke and useless the pinch of knowledge - the salt of wisdom it needs to reach
and in hearts godlike mercy.
Then we too will be adorned with the filiation of God - blossoming to the wedding in heaven - on lasting ground.
The seeker pious still lacks pepper,
but then the word - clear as water -
helps to change into original power.
M.Th. 11.10.21, Vienna 
________________