UPCYCLING for cargo ships
 Each of the tens of millions of cargo ships that cross our oceans are downsized after their seaworthy operating time in Third World countries 
Instead, these structurally valuable structures could be given a second useful life.
 At piers or on land keel up, they would - with a correspondingly extended operating license, expanded as a multi-purpose space - still provide valuable services for several years. Whether as a school, opera, museum, department store, gallery, hospital, restaurant or for communal living - offers such a ship's belly many possibilities. In new buildings, such facilities cost scarce resources, occupy a lot of urban space and hardly have any more of a lifetime.
   Michael Thalhammer, Vienna, December 2019
 ~        ~        ~        ~        ~
SAILS for SEATRANSPORT 
Inflated wings also for cargo ships
90% of all long-distance freight is done on "dirty" sea routes.
This should and must be different in the future. Is now also good and cheap to implement! With the simple and revolutionary invention of two Swiss inventors can be realized also 1000 m² sail areas. These perform independently and without strong force on the mast and canvas propulsion work. Large ships can now be equipped with 4 to 6 thousand m² of wind power.
See the 8 min. VIDEO on:
https://www.yacht.de/yacht_tv/test_technik/ist-der-aufblas-fluegel-die-revolution-des-segelns/a118866.html
as well: www.inflatedwingsails.com
                                          Statements of the inventors of the Inflated-Wing-Sail:
"It's the first sailboat that really gave me pleasure sailing because it mixes aircraft and yachting technologies ...»
Laurent de Kalbermatten, aviator and IWS creator
«IWS offers a sensation of freedom with a balanced rigging while minimizing effort on the boat»
Edouard Kessi, sailor and IWS creator
A concept
BASED ON PARAGLIDERS AND ON INFLATABLE AIRCRAFTS
IWS is made of:
A double skin forming a symetric airfoil
Fans placed inside the leading edge, stabilizing the sail's shape for every wind conditions
Free-standing and retractable mast located at the airfoil's aerodynamic center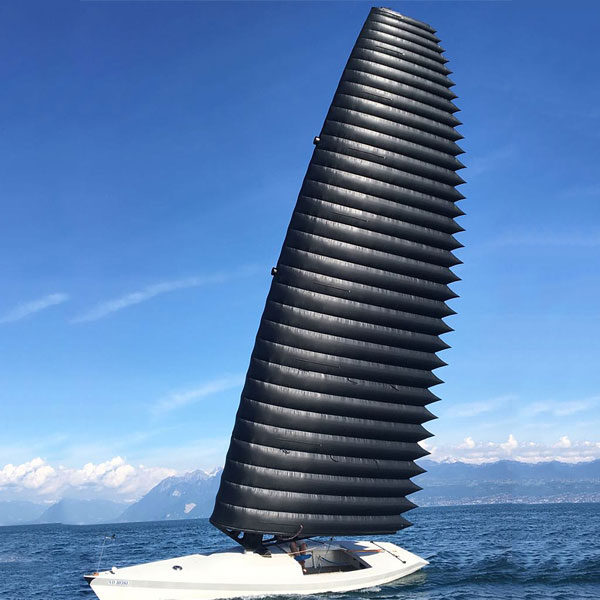 The IWS for yachts:
A SOFT AND GROUNDBREAKING WING
The advantages
OF IWS:
The sail flies vertically
The NACA airfoil has been studied to develop a high driving force for a low righting moment
Using a symetric airfoil allows to tack to one side of another without having to trim the sail shape
The symetric airfoil is balanced and placed itself in the best position to maximize the driving force
The aerodynamic center stays stable in every wind condition
This kind of sail could easily be driven by an automatic system
IWS
REDUCES EFFORT ON THE BOAT:
Shape control using the internal pressure
no battens
no local stress
better aging
The wing flies vertically and does not create local stress inside the membrane (light sail cloth used for both ribs and the fairing)
Little heel angle upwind
Perfect for gigantic sails such as superyachts
Free-standing, retractable and light mast hidden inside the wing
Less leeway control needed
A refined deck of any hardware
IWS behaves like a muscle,
STABILIZED BY HIGH INTERNAL PRESSURE
No flapping
No dynamic stress
Spectacular absorption of the pitching effect
Wing twist controlled by internal pressure
IWS sailplan
IS BALANCED AROUND THE MAST:
No compression forces in the rigging which allows the use of a retractable mast
No leech tension. The sheet is only used to adjust the wing in its best angle
The free-standing rigging allows gybing with the wing going forward around the mast, which makes the maneuver a lot easier
IWS controls the sail area
BY MAST HEIGHT:
Mast and sail expension varies according to the desired sail area
Dropping the IWS is made by deflating the wing and retracting the mast
The light boom, called "Nest" ®, is integrated into the wing and receives the part of the sail that has been dropped and deflated
Being able to retract the mast allows a huge decrease in drag and pitch forces during motoring or while at the dock
IWS
IS IDEAL FOR:
Cruising Yachts A brand new yachting philosophy
Huge sails for passenger or cargo ships. With IWS, there is no more stress in the sail cloth, the rig or the ship structure. This system would allow sail propulsion for this kind of vessel
IWS,
THE HISTORY
2015
prototype created using a laser dinghy.
2016
International patent application.
Comparison between a normal Laser dinghy and one with the IWS system.
Performances and advantages validated.
IWS,
2017 NEWS:
To analyze all the advantages of the IWS system, a 42m² wing has been built for a 5.5m one design boat. The retractable mast made out of 5 sections deploys up to 13m using a pneumatic system
Test period is finished. The boat sails on lake Geneva and is at your disposal for sea trials
Our experience on the IWS proved that this system is very simple, efficient and user friendly.