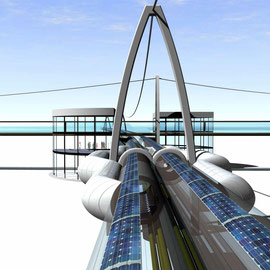 Offer to the OPEC  
In order to preserve the fossil precious resources for the future, the development study TubeWay-solar for transport and transport is an excellent option.
In order to keep the energy priority in their own hands, the OPEC participants should realize this type of pipeline transport network, in concerted cooperation and in their own direction.
>> TubeWay does not need to be against your core business ! << 
Because with TW in their hands, as an second portfolio, they dictate the energy question in the direction of the freer world and the preservation of our Earth climate.
It is only then that regional oil fields do not necessarily compete and maintain value and price.
In this sense, I ask you to forward the link TubeWay to your members.
... with the commitment to future-oriented technical solutions in the field of transport, public transport and buildings - with solar thin film foils. For further information, please visit  >>  www.tubewaysolar.at.
These patent-free inventions need and expect your industrial application - this is my strong vision ... 
Stability is central to everything we do. It is the overarching concern that connects us all.
Whit sunny greatings
       Michael Thalhammer                                          -                                         Vienna - 14.02.2017
UmWelt-bürger & Konzerne!
Environmental, Citiecens & Corporations!
Unser steigender Bedarf nach fossilen und anderen begrenzten Ressourcen bringt uns und das globale Ökosystem an die Grenzen weiterer Möglichkeiten.
Our growing need for fossil and other limited resources brings us and the global ecosystem to the limits of further opportunities.
Zugleich befinden wir uns in dynamischen Systemen, welche uns nur geringe Möglichkeiten zum Gegensteuern belassen. Diese gefährliche Situation zu erkennen und alte Geleise durch neue Weichenstellungen zu korrigieren ist das Gebot der Stunde.
At the same time, we find ourselves in dynamic systems, which leave us only a few possibilities for countercontrol. Recognizing this dangerous situation and correcting the old tracks by means of new tactics is the order of the day.
Um zu einer Umkehr aus dieser Sackgasse noch ausreichende Energien und Mittel zu bewahren, brauchen wir neben allerlei neuer Techniken besondere, andersartige Verkehrs- und Transportmittel. Ich habe daher seit 2002 solare Mobilitätsansätze entwickelt, welche in der Lage sind, diesen Weg zu bewältigen. Nehmen Sie diesbezüglich bitte Einsicht in die patentfreien Entwicklungsstudien, unter: >> www tubewaysolar at.
In order to preserve sufficient energy and resources to return from this impasse, we need special, different means of transport and means of transport, along with all kinds of new techniques. I have therefore developed solar mobility approaches since 2002, which are able to cope with this path. Please take a look at the patent-free development studies in  >> www.tubewaysolar.at.
Leider hat meine mehrfach an diverse Hersteller ausgesandte Technik-Weitergabe bisher kein Umsetzen bewirkt. Daher ergeht dieser Aufruf nun auch an Sie, mit dem Ersuchen zu einer aktiven Weiterleitung an Medien, Konzernetagen, Capitals, EU und wer immer Ihnen als zuständig erscheint.
Unfortunately, my technically extended transmission to several manufacturers has not caused any conversion. Therefore, this call is now being sent to you, with the request for an active forwarding to the media, group days, Capitals, EU, and whoever appears to you to be responsible.
Unseren Enkeln und dem Extremklima schulden wir mehr als dem Wirtschaftsdiktat. Wir können die Schöpfung bewahren oder in Materialschlachten versinken.
Out grandchildren and the extreme climat we are more owed than economic constraints. We can preserve the creation or sink into material slaughter.
.... mit Engagement zu kunftsorientierten technischen Lösungen im Bereich Transport, Öffentlicher Verkehr und Gebäude - mit solaren Dünnfilm-Folien. Weitere Informationen finden Sie unter  >  www.tubewaysolar.at. Diese patent-freien Erfindungen brauchen und erwarten noch ihre industrielle Umsetzung - das ist meine starke Vision ....
... with engagement to future-oriented technical solutions in the field of transportation, public-traffic and buildings - with solar thin-film foil-applications. Please see more in > www.tubewaysolar.at. These patent-free inventions needs and expect their industrial implementation - this is my strong vision ...
Michael Thalhammer +43 1 9195724
Tubeway - Verkehrssystem der Zukunft Tubeway - ein druckluftgetriebenes CO2-neutrales kostengünstiges Verkehrssystem. http://tubeway.de