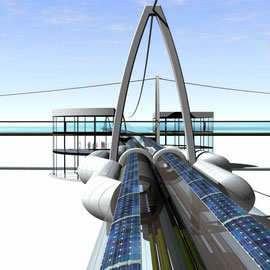 Offer to the OPEC  
In order to preserve the fossil precious resources for the future, the development study TubeWay-solar for transport and transport is an excellent option.
In order to keep the energy priority in their own hands, the OPEC participants should realize this type of pipeline transport network, in concerted cooperation and in their own direction.
>> TubeWay does not need to be against your core business ! << 
Because with TW in their hands, as an second portfolio, they dictate the energy question in the direction of the freer world and the preservation of our Earth climate.
It is only then that regional oil fields do not necessarily compete and maintain value and price.
In this sense, I ask you to forward the link TubeWay to your members.
... with the commitment to future-oriented technical solutions in the field of transport, public transport and buildings - with solar thin film foils. For further information, please visit  >>  www.tubewaysolar.at.
These patent-free inventions need and expect your industrial application - this is my strong vision ... 
Stability is central to everything we do. It is the overarching concern that connects us all.
Whit sunny greatings
       Michael Thalhammer                                          -                                         Vienna - 14.02.2017
Environmental, Citiecens & Corporations!
For some 200 years, many technical developments, purely monetary and economic-political interests, soulless industries and god afar sciences have been tempting us into dangerous mazes.
Our growing need for fossil and other limited resources brings us and the global ecosystem to the limits of further opportunities  
At the same time, we find ourselves in dynamic systems, which leave us only a few possibilities for countercontrol. Recognizing this dangerous situation and correcting the old tracks by means of new tactics is the order of the day. 
In order to preserve sufficient energy and resources to return from this impasse, we need special, different means of transport and means of transport, along with all kinds of new techniques. I have therefore developed solar mobility approaches since 2002, which are able to cope with this path. Please take a look at the patent-free development studies in  >> www.tubewaysolar.at.
Unfortunately, my technically extended transmission to several manufacturers has not caused any conversion. Therefore, this call is now being sent to you, with the request for an active forwarding to the media, group days, Capitals, EU, and whoever appears to you to be responsible.
Out grandchildren and the extreme climat we are more owed than economic constraints. We can preserve the creation or sink into material slaughter.
... with engagement to future-oriented technical solutions in the field of transportation, public-traffic and buildings - with solar thin-film foil-applications. Please see more in > www.tubewaysolar.at. These patent-free inventions needs and expect their industrial implementation - this is my strong vision ...
Michael Thalhammer,                                                                                                        Vienna, March 2017
+43 1 9195724
      Easy to think ...
 
Who can protect us from the consequences of our own, dynamic threats?

    To the already displaced species of a miraculous life-diversity, a frightening acceleration of thinning now appears. The following gross factors unfortunately result in a rather gloomy forecast for the future:
    Fading of all essential resources, climate disasters, drinking water deficiency, bee death, unbreakable CO2 growth, humus spills, land sprawl and mass migration, destructive group economy, urbanization, BITcoins bubble, over- and simultaneous malnutrition, digitalization, constantly growing automation, degrading battles for jobs,
Overfishing of the oceans, sea level rise, ruthless world trade, digital dictatorship,
Terror, wars and consequences thereof, upgrading for warfare, nuclear power plants, agrarchemy, monocultures, rainforest destruction, inflation, garbage problems ...
    
    Where water, air, and fertile soil suffer such adverse changes, the whole of life is threatened. Added to this are new moral problems; and that stable interpersonal relationships - and those of our Creator - are diminishing. The family and the respect for life lose their power and terrain!
I believe that if we had not a loving and provident God, we would all be lost. He will prepare us an unedited new heaven & a new earth!
M.Th. - tubewaysolar.at
Revelation of John 21: 1

And I saw a new heaven and a new earth;

 

for the first heaven and the first earth had passed away ...
  See too:                             
 www.we-and-our-climate.at  -  My Explanation of our climatic development; and own prayers.