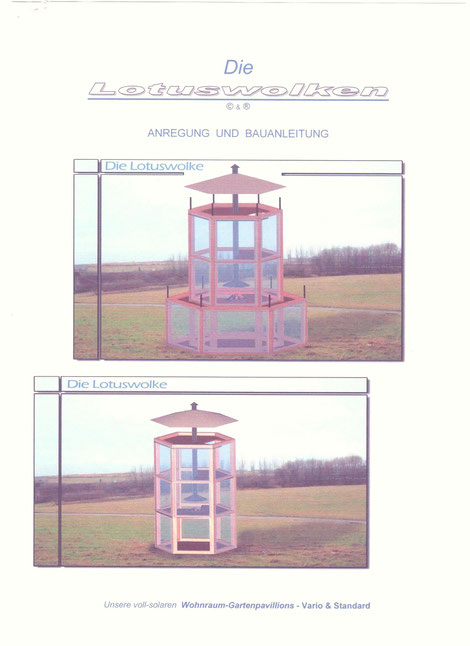 Constructional approach  -     "L O T U S - CLOUD"  -  for climatically hot countries
 
 
Due to frequent flooding during the rainy season, the dwellings of these climates are mostly built on stilts. The living room is thereby also a lower covered area given. To withstand occasional violent storms, the cornerstones are attached by means of ground anchors.

 
During my stay in India I realized that would at long-term dry / hot conditions wall insulation with cooling effect evaporator walls mind. The preparation should be cost-effective, feasible in DIY and module components - be - ie locally transportable:

Wall module frames were covered this in three differents layers: Outwardly a shiny silver or white PVC fabric covering is applied. 5 cm deep is a 1 mm thin Erdflies to absorb water hooked into the frame. For the flow-wetting in the hot and dry months a perforated water hose is installed above on the flow. When sprinkler hose with valve timing these are commercially available.

 
The inside view wall (back to 5 cm distance) is also made feuchtebeständigem, pleasing decorative fabric. Top and bottom can be adjusted the desired circulation over narrow louvers. The upward as downward flow is now to the wet (in the rainy season dry unprocessed) Flies: down to one, up and evaporating, between the fleece and the outer skin, and on the other and a cooling in the inner level, between the wet flow and the decorative fabric.

 
The slight sloping roof is made with only two layers. This form upwards beyond a hot air discharging duct. All this works without a fan or pump. By means of a mosquito net sliding door (added to the solid door) and a top hatch can dispense the room air exchange.

 
Several times a year the internal flow is to be exposed to the sun and shaken afterwards and placed again. By cleaning all surfaces and parts of unhealthy germs development is prevented.
 
 
In the Lotus cloud be taxed with solar power and solar-generated hot water generate (with tank on top of the hut) energy. Also, a biologically operating small treatment plant is recommended.
 
 
The model is to make a model for affordable, regionally producible smaller rooms. The approach integrates a ecologically acceptable room climate.

 
See also my page  www.tubewaysolar.at  similar construction and transport concepts.
 

© 2002 Script and Innovation    -   With sunny greetings, Michael Thalhammer     -      Last update in October 2016 -Vienna