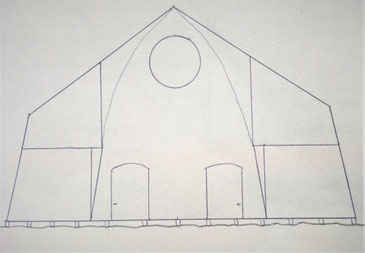 <       the City-ASYL      >       
This self-help project is a voluntary commitment to offer women, men and possibly children accommodation and support for their specific way of life.
It is not a usual emergency shelter or women's shelter - however, it wants to convey to its inhabitants in the up to six months possible stay mental self-discovery and positive strength for the further life. 
Applicants from all walks of life are selected to learn from each other and grow together in respectful cooperation. For rent plus full board the client has to pay 390 € per month, so 13 € each day&night. This income is used to finance the two half-day salaries of the association management, in addition to the costs of the support programme*.
In order to promote the project publicly, a symbolic annual lease, which can be extended to 5 years, would be a noble and socially meaningful basis. The local community could
also pay half of the electricity costs.
The city-ASYL needs a parking space in addition to the cheerfully motivated team. The task and goal would then be to enable each of the 14 residents to progress independently on a discreet basis of trust during their stay of up to six months. 
A foundation-free 120 m² mansard roof with a central common room and a row of private living rooms (a' 7 m²) on both sides is planned as a club building. The kitchen, the dining area and the sanitary facilities are located in front of it - under an equally large pent roof.
The advantages of the planned city-ASYL "hardware" are  # mobile lightweight construction.  # 100% wooden-ecological material.   # simple hand tools are sufficient to erect this rooftop-only building, which is also sufficient to dismantle and reassemble the 1.25 x 2.5 m elastomer-jointed individual modules. # also their best insulating vacuum modules** in the finished OSB standard dimension are practical to handle.
Before a construction site is set up, a survey of the surrounding area and hearings must be conducted to ensure that the project is sufficiently accepted (in Vienna, for example, the "Viennese Wilderness" on the Margarthengürtel near the U4 underground line would be suitable - as there is sufficient space and hardly any neighbours).
 The city-ASYL – Building: The foundation-free lightweight construction of the city-ASYL, which can basically be erected at any location, offers a highly cost-effective construction method.
* * *
   The  city-ASYL - banquet
The 3x communal meals will be provided by donations from various supermarkets, which the residents will pick up themselves daily with carts. 
The "banquet" is at fixed times at 8 h, 13 h and 19 h. Every day, a changing team of residents prepares the meals and then "clears the boat".
Guests from out of town can join in if sufficient food is available. Menu, coffee and cake are available for 6,50 €. The preparation, serving and dining takes place under the flying roof. On its three free sides hang reed panels. The food is eaten at marquee sets. On cold days, infrared radiators warm up the food, and in hot weather, fans cool the food. 
The encounter of people with their different life stories wants to and can give everyone a new perspective for their own way.
For "leisure time", badminton and various table and group games, a book board, sewing, pottery, language courses, making music, painting, dance, gymnastics and much more are planned. The supervisors offer - according to their talents with their own focus - a colourful daily structure in a constantly changing schedule. Whether it's an excursion, singing, yoga, refresher courses in ABC and 3 x 3 or a basic PC course - there are always encounters and useful things in the program. In this way, all the fears and compulsions we have brought with us are gradually transferred into the healing creative power of hidden talents.
A fenced-in children's play area with a swing, seesaw, sand pit, etc. could be attached to the southern flank. This area may be used - under the responsibility of parental supervision.
Also the house and the food tent should be surrounded by a building fence, raised beds and berry bushes - so that there is only one access (with motion detector).
In cold weather, the 10 by 6 meter middle room of the building, in addition to its devotional use, also offers play and cuddling for parents and their children. Screens form a partition to the rest of the square, which all residents can use on weekdays for their various activities.
* * *
The 4+3 m² private living area 
Each of these 16 private rooms has 4 m² of living space measuring 3 m x 1.23 m x 2.5 m room height and a small window to the day room. Above this there is to a 3.5 m² attic room, which is accessible via a attic stair.  
In addition to the bed equipment, there is also a wardrobe, table, folding chair, three LED lamps and a digital radio with headphones - as well as a hook-in extra bed for children who may have moved in with them and an adjustable ventilation. 
 Binge drinking and smoking in the house are not allowed! The deliberately tight support programme does not include inappropriate casual contact with clients, nor does it include the teaching of stiff dogmas that are too religiously colored!
However, a human togetherness at eye level should promote the good and salutary in a denomination-neutral way ***.
 The city-ASYL association sees itself as an aid community, meeting and escape for people in crisis from various areas of life - not more!
The residents can keep their sleeping hours around the clock; however, there is a general night's rest from 11 p.m. to 7 a.m. The property is then secured with, among other things, an all-night vision recording system. Two toilets in the canopy, washbasin and shower, have their 12V LED permanent lighting.
The shower water is regulated for three minutes, so that there is enough hot water for everyone. There is also a washing machine and refrigerators that can be used by the residents. 
 * * *
The Workroom Chapel
Normally the central 60 m² serve as a work and recreation room. But on Sunday it is a prepared meeting place of a special kind.
As a chapel**** it offers a low-threshold access to prayer and Communion - also to the wider environment. So long no deacon can be found, communion in the Lord's Supper is practised - in the alternative approach among lay people - with weekly readings and the usual liturgy. 
Instead of the songbooks, the respective worship text is projected onto the wall by a mini beamer. No offering money is collected.  
Of course, Muslim residents, for example, can also hold their special celebrations as laymen.
Participation - as with all other offers - is always voluntary.
The daily evening gatherings, with time for general as well as interdenominational discussions among the residents, come about quite naturally. Because in difficult times we ask - full of doubt, longing and hope - for God in a special way! The tenor here is: to reach insights, strength and inner peace in the Self. It is precisely when we know that we are burned out inside that our longing for Him, for His unobtrusive and serene silence, His tender presence - is most perceptible. This is when we are ready to open ourselves, to experience encounter. Those who feel attracted to the city-ASYL programme are also ready to make their full contribution, despite the rather uncomfortable camp situation. 
This multi-purpose building also carries neither a tower nor a bell, nor does it have candles anywhere. Instead of watching television, we explore more the surroundings in woods and fields or  bathing in a natural pond on a bicycle tour. It also has an aquarium, songbirds and a domestic cat.
Outside of the mass the beamer projects meditative images in alternating sequence. 
In the 6 x 1.5m porch in front of the chapel are the entrances to the office and storage room. 
In the event of an alarm, dozens of smoke detectors ensure that the occupants are trained in how to rescue themselves.
Two 720 litre hot water tanks are centrally located in the porch - they are connected to two solar thermal tube collectors on the south roof. This space is also used by e-PV module for 12V consumers.   
(The students of the HTL-Mödling Holzbau master class could possibly carry out the prefabrication and finishing of the 98 elements of the city-ASYL Prototyp-building - with the provision of the material and my assistance.)
 If your company has the concept
eligible for funding, and you can support it with
or financial donations - would
we are pleased - your company logo with
further supporter logos into the
 to integrate the coming web presence.
The combination of spiritual and bodily panels is likely to be the city-ASYL project among the needy of our cities - little by little - and find lively resonance.  
Will, can, may this city-ASYL have reality? Up to this point, it's been my part. Whether or not I can still take part is perhaps also up to you, dear readers...
* These reserves also form a self-insurance to be saved for possible breakdowns and damages. Up to 7 of the 14 rooms are reserved for women with child(ren). So there is a monthly income of about 7.000.- €.
** Technically, a similar approach already exists in so-called VIP's vacuum panels. These vacuum wall modules framed here in 12 mm plywood are created as follows: Two 10mm OSB/3 panels (2.5x1.25 m) are coated on both sides with a layer of ErcoleEcoactive to make them fire-resistant and smoothed.  After one day, they are wallpapered on both sides with heat-reflecting aluminium foil (using a thin layer of special paste and Ovalit-T). One of the two >non-gas-tight panels< is glued in the fold of the module frame by means of an appropriate sealing compound.
Then 5 x 5 cm squared lumber - coming directly from the drying chamber - is placed in the plywood frame at a parallel distance of 30 cm in such a way that it is only in diagonal contact with the boards along the longitudinal edges and does not form thermal bridges. For further distribution of external pressure, the 30 cm parallel spacing is additionally divided into three lengthways sections with two spacer strips of 2470 x 4 x 70 mm thick plywood. Their longitudinal edges have previously been conically reduced from 4 to 2 mm, also to reduce thermal conductivity. 
A thermal residual air circulation in these 10 cm wide cavities is prevented by using loosely crumpled newsprint. In addition, a pack of zeolite drying pellets is inserted. 
Now the second cover plate is also placed in a hermetic bond with the frame. Finally, most of the air in each module is evacuated by a rotary vane pump via its pneumatic ball valve on the living area side.
In this way, sandwich elements are created that are approximately 9 cm thick, can bear loads and are highly insulating under vacuum. Each of them weighs approx. 50 kg and is - after long-term diffusion - readjustable.  Due to vacuum and special cement coating these modules are very fire-resistant. They are also soundproof, earthquake-proof and never get damp.
The load-bearing partition walls in the building are made of 18mm thick OSB's and they receive a T-support (made of 7 cm wide, glued and screwed plywood strip) on their upper edge. These strips are the support interface for two vacuum modules each. 
In the course of the roof construction (using silicone joints), a simple reed mat and a greenhouse foil is applied to the roof slope. This results in an 80 % anti-reflective and optically interesting roof surface. Under the roof, a wallpaper is stuck onto the aluminum foil.  
Reed mats covered with transparent greenhouse foil are placed on the wooden support frame of the shed roof (south of the building). The narrow mats hanging down at the edge roll up individually (all of them in case of a storm) when the wind blows, controlled by sensors.  The mats are protected with EverWood-waterglass to prevent fire and weathering. This visual protection is further enhanced by colorful dispersions, which give the mats a pleasing decor.
This PureRoof measures 12 x 10 metres and is 7.2 metres high at the gable. It rests on a 22 mm underlaid OSB floor panel. Together with fence and hedge, about 350 m² of land is required.  With the full city ASYL equipment, the project costs > 35,000 euros. - More about the technical background of each type of vacuum wall can be found on my website www.tubewaysolar.at.
*** The most essential, valid house rules would be:  # ... to respect each other  # ... be there for each other as a small family and stick together.  # ... to help shape the daily structure and group activities as much as possible.  # ... and so on.
**** The altar area is, in my imagination, brightly lit and shines in simple beauty. Upholstered chairs offer space for tired souls - and the festive atmosphere encourages to stay.  For example, the oval altar plate would be made of white, roughly hewn marble, resting on an old olive tree stump. In east-west direction, one rose window each is visible at a height of 4 metres.
The 60 m² room area has a cheerful, colourful covering and the OSB walls are three metres high and white with a delicate decoration. The light blue sub-roof is decorated with golden stars. Rising up at 1.25-metre intervals are Gibel-forming OSB ribs whose cut edges bear brass trim.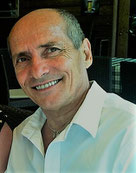 If you are interested to participate, please contact me:       
 thalhammerm@yahoo.de  or 01 9195724
Similar city-ASYL club buildings with this social concept could be imitated in several other cities. In Vienna alone, the need for further branches could be met.
The approach would also be a quick and cheap solution for migration and reconstruction after disaster and war damage.
  On the way to light leave no one behind! (Peter Rosegger)
At www.vimeo.con/293395008 you can find my 3-D animation of the planned city-ASYL building. Another alternative vacuum wall construction can be seen on my website www.tubewaysolar.at. 
 The total interior space covers 120 m².
63 m² are added as floor space, divided between the 18 units.
The central day room measures 60 m².
Each of the 16 residents has 7 m² of space all to themselves.
Two rooms a' seven m² are reserved for the office (or night-time on-call room) and vis-a-vis the warehouse
- this makes 18 equal units.
 Preliminary SHEET OF MATERIALS AND COSTS 
        210m² 25mm coarse chipboard for floor + black construction foil            1.000.- Euro
200lm floor underlay, rough sawn, 5x20cm                                                   800.- 
800m² 10mm &18mm OSB for roof and walls                                          4.000.-
380lm 5x5cm + 350lm 2x2cm for sandwich panel construction                    560.- 
600 lm roof battens                                                                                         300.-
           500kg  Ercole  OSB-Beschichtung                                                              4.000.-            
460m² aluminium foil, 3m² ESG insulating glass panes                                 430.-
380m² reed mat, 380m² tunnel foil                                                                1.000.-
16/ Attic stairs                                                                                                1.400.-
beamer, LEDs, DAB+ and other electronics                                                1.800.- 
18 pcs. door locks                                                                                              220.- 
4/beer tent sets - tables 70cm wide                                                                   380.-
15 stacking chairs + upholstery                                                                        130.-
25/ Air guest beds with double bedding                                                        1.500.-
Office - laptop, copier + mobile phone                                                             600.-
1/ Washing machine + 3/ Refrigerators, sewing machine                              2,300.-
2 WC + shower, sewage access, lightning rod + fire podection                     2.550.-
kitchen equipment + crockery + stove                                                            2.200.-
tube collector + solar tank compl.                                                                   2.600.- 
PV system for 12V consumer e.g. Led lighting                                              1.100.-
4/Headscreen infrared panel, 8/ mini-eco-Heater                                           2.300.-
Children's play tower with 2 swings and slide + sand                                       720.-
Bicycles, handcart, bandages, ironing machine                                              1.200.-
23 pcs. site fence 3,5x2m, with base                                                               1.200.-
100 pcs. berry shakers                                                                                     1.100.-
4 pcs. raised bed a' 57.-                                                                                      230.-
                                                                                           _______________________
                                                                                            = in total approx.   35.640.- €
The goods come mainly from e.g. do-it-yourself stores, which then also
main donors should appear.
Michael Thalhammer, Vienna on 13.7.2020